The power to choose in a child's hands.
210 CHILDREN WERE CHOSEN! PRAISE GOD!
Join us for this three week life-changing campaign of inspiration and transformation. The culmination is a child from Honduras choosing YOU as their sponsor. All ages will have devotionals, service projects and so much more!
Some kids wait years to be chosen by sponsors. But what would happen if, instead, they got to choose? For the first time, the power to choose is in a child's hands. The power to take hold of their future, to initiate change in their own lives, and to transform their community.

When you sponsor a child for $39 a month, you'll help empower that child and children in their community to overcome poverty for good. You'll show God's love and meet practical needs by equipping them with essentials like clean water, education, healthcare, and more.
Hear Doug as he shares how to sign up to be Chosen by a child in Honduras. Send a text to 56170 and type TRINITY.
World Vision's child sponsorship program addresses the root causes of children's vulnerability, empowering children, their families, and their communities to break free from poverty. When World Vision partners with communities – kids are healthier, more children have local health services, kids are thriving in school, water solutions are long-lasting, and young people are growing in their faith.
Guest preacher:
CHAD ERLENBORN
Senior Church Advisor, World Vision
Text "trinityM25" to 56170

Daily texts will challenge and encourage you with powerful stories of children around the world.
Guest preacher:
PETER MUTABAZI
Senior Advocate, World Vision

After making your committment, have your picture taken at one of the stations around campus. This image will be used for a child in Honduras to choose YOU.

Preacher:
PASTOR GLYN NORMAN
Find out which child has chosen YOU as their sponsor!
You can pick up the image of your child on the Sanctuary patio.
Along with the opportunity to be Chosen, our students are raising funds! Every penny raised will go towards the village in Honduras where our Chosen party is happening. Below are ways you can participate.
Have items to donate? Drop them off at The Center Thursday, Mar 24 @3-7PM and Friday, Mar 25 @9AM-5PM. Then come back to shop!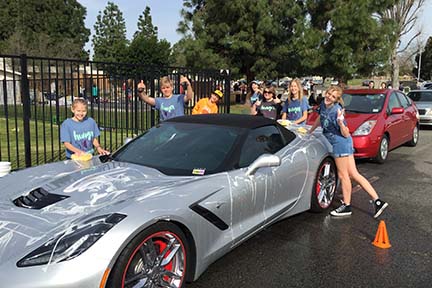 Saturday, March 26
8AM-12PM
Bring your dirty car and get a detailed wash, hand dry and interior cleaning. Yes, we do windows!
Saturday, March 26
8-10AM & 10AM-12PM
Students will clean garages, paint fences, do yard work – whatever you need. 
Pray for God to move in miraculous ways! We will all play our parts but only God can transform lives.
Ask God to move in powerful ways to connect us to our identity in Christ and Christ's heart for our world.