You will seek me and find me when you seek me with all your heart. –Jeremiah 29:13
—- MINISTRY PARTNER ROLL CALL —-
8:30AM | Field

—– 4 & 5 YEAR OLDS —-
9-11:30AM
(no rotation)
—- K to 2ND GRADE —-
Check-In  |  The Center
9-10:05AM
— rotate venues–
10:15-11:30AM
Field  |  Check-Out
—- 3RD to 5TH GRADE —-
Check-In  |  Field
9-10:05AM
— rotate venues–
10:15-11:30AM
The Center  |  Check-Out
PURPOSE FOR THE DAY:  Point students to the truth that Jesu fulfilled God's plan and they can have eternal life through belief in Jesus if they accept him as their Lord and Savior and follow the truths of the Bible to obey God's will. 
BIBLE VERSES:
Isaiah 53:5 & 7-11 ……………………………………………
But he was pierced for our rebellion, crushed for our sins. He was beaten so we could be whole. He was whipped so we could be healed. 
He was oppressed and treated harshly, yet he never said a word. He was led like a lamb to the slaughter. And as a sheep is silent before the shearers, he did not open his mouth. Unjustly condemned, he was led away. No one cared that he died without descendants, that his life was cut short in midstream. But he was struck down for the rebellion of my people. He had done no wrong and had never deceived anyone. But he was buried like a criminal; he was put in a rich man's grave. 
But it was the Lord's good plan to crush him and cause him grief. Yet when his life is made an offering for sin, he will have many descendants. He will enjoy a long life, and the Lord's good plan will prosper in his hands. When he sees all that is accomplished by his anguish, he will be satisfied. And because of his experience, my righteous servant will make it possible for many to be counted righteous, for he will bear all their sins.
John 19:17 thru 20:18 ……………………………………………
Carrying the cross by himself, he went to the place called Place of the Skull (in Hebrew, Golgotha). There they nailed him to the cross. Two others were crucified with him, one on either side, with Jesus between them. And Pilate posted a sign on the cross that read, "Jesus of Nazareth, the King of the Jews." The place where Jesus was crucified was near the city, and the sign was written in Hebrew, Latin, and Greek, so that many people could read it.
Then the leading priests objected and said to Pilate, "Change it from 'The King of the Jews' to 'He said, I am King of the Jews.'" Pilate replied, "No, what I have written, I have written."
When the soldiers had crucified Jesus, they divided his clothes among the four of them. They also took his robe, but it was seamless, woven in one piece from top to bottom. So they said, "Rather than tearing it apart, let's throw dice for it." This fulfilled the Scripture that says, "They divided my garments among themselves and threw dice for my clothing." So that is what they did.
Standing near the cross were Jesus' mother, and his mother's sister, Mary (the wife of Clopas), and Mary Magdalene. When Jesus saw his mother standing there beside the disciple he loved, he said to her, "Dear woman, here is your son." And he said to this disciple, "Here is your mother." And from then on this disciple took her into his home.
Jesus knew that his mission was now finished, and to fulfill Scripture he said, "I am thirsty." A jar of sour wine was sitting there, so they soaked a sponge in it, put it on a hyssop branch, and held it up to his lips. When Jesus had tasted it, he said, "It is finished!" Then he bowed his head and gave up his spirit. 
It was the day of preparation, and the Jewish leaders didn't want the bodies hanging there the next day, which was the Sabbath (and a very special Sabbath, because it was Passover week). So they asked Pilate to hasten their deaths by ordering that their legs be broken. Then their bodies could be taken down. So the soldiers came and broke the legs of the two men crucified with Jesus. But when they came to Jesus, they saw that he was already dead, so they didn't break his legs. One of the soldiers, however, pierced his side with a spear, and immediately blood and water flowed out. These things happened in fulfillment of the Scriptures that say, "Not one of his bones will be broken," and "They will look on the one they pierced."
Afterward Joseph of Arimathea, who have been a secret disciple of Jesus (because he feared the Jewish leaders), asked Pilate for permission to take down Jesus' body. When Pilate gave permission, Joseph came and took the body away. With him came Nicodemus, the man who had come to Jesus at night. He brought about seventy-five pounds of perfumed ointment made from myrrh and aloes. Following Jewish burial custom, they wrapped Jesus' body with the spices in long sheets of linen cloth. The place of crucifixion was near a garden, where there was a new tomb, never used before. And so, because it was the day of preparation for the Jewish Passover and since the tomb was so close at hand, they laid Jesus there. 
Early on Sunday morning, while it was still dark, Mary Magdalene came to the tomb and found that the stone had been rolled away from the entrance. She ran and found Simon Peter and the other disciple, the one whom Jesus loved. She said, "They have taken the Lord's body out of the tomb, and we don't know where they have put him!"
Peter and the other disciple started out for the tomb. They were both running, but the other disciple outran Peter and reached the tomb first. He stopped and looked in and saw the linen wrappings lying there, but he didn't go in. Then Simon Peter arrived and went inside. He also noticed the linen wrappings lying there, while the cloth that had covered Jesus' head was folded up and lying apart from the other wrappings. Then the disciple who had reach the tomb first also went in, and he saw and believed — for until then they still hadn't understood the Scriptures that said Jesus must rise from the dead. Then they went home. 
Mary was standing outside the tomb crying, and as she wept, she stooped and looked in. She saw two white-robed angels, one sitting at the head and the other at the foot of the place where the body of Jesus had been lying. "Dear woman, why are you crying?" the angels asked her. 
"Because they have taken away my Lord," she replied, "and I don't know where they have put him." She turned to leave and saw someone standing there. It was Jesus, but she didn't recognize him. "Dear woman, why are you crying?" Jesus asked her. "Who are you looking for?"
She thought he was the gardener. "Sir," she said, "if you have taken him away, tell me where you have put him, and I will go and get him."
"Mary!" Jesus said.
She turned to him and cried out, "Rabboni!" (which is Hebrew for "Teacher").
"Don't cling to me," Jesus said, "for I haven't yet ascended to the Father. But go find my brothers and tell them, 'I am ascending to my Father and your Father, to my God and your God.'"
Mary Magdalene found the disciples and told them, "I have seen the Lord!" Then she gave them his message.
Acts 8:26-40 …………………………………………………………………..
As for Philip, and angel of the Lord said to him, "Go south down the desert road that runs from Jerusalem to Gaza." So he started out, and he met the treasurer of Ethiopia, a eunuch of great authority under the Kandake, the queen of Ethiopia. The eunuch had gone to Jerusalem to worship, and he was now returning. Seated in his carriage, he was reading aloud from the book of the prophet Isaiah.
The Holy Spirit said to Philip, " Go over and walk beside the carriage." Philip ran over and heard the man reading from the prophet Isaiah, Philip asked, "Do you understand what you are reading?" The man replied, "How can I, unless someone instructs me?" And he urged Philip to come up into the carriage and sit with him.
The passage of Scripture he had been reading was this:
"He was led like a sheep to the slaughter.
And as a lamb is silent before the shearers, 
he did not open his mouth.
He was humiliated and received no justice.
Who can speak of his descendants?
For his life was taken from the earth."
The eunuch asked Philip, "Tell me, was the prophet talking about himself or someone else?" So beginning with this same Scripture, Philip told him the Good News about Jesus. 
As they rode along, they came to some water, and the eunuch said, "Look! there's some water! Why can't I be baptized?" He ordered the carriage to stop, and they went down into the water, and Philip baptized them.
When they came up out of the water, the Spirit of the Lord snatched Philip away. The eunuch never saw him again but went on his way rejoicing. Meanwhile, Philip found himself farther north at the town of Azotus. He preached the Good News there and in every town along the way until he came to Caesarea.
John 11:25 …………………………………………………………………..
Jesus told her, "I am the resurrection and the life. Anyone who believes in me will live, even after dying."
Romans 1:16 …………………………………………………………………..
For I am not ashamed of this Good News about Christ. It is the power of God at work, saving everyone who believes — the Jew first and also the Gentile.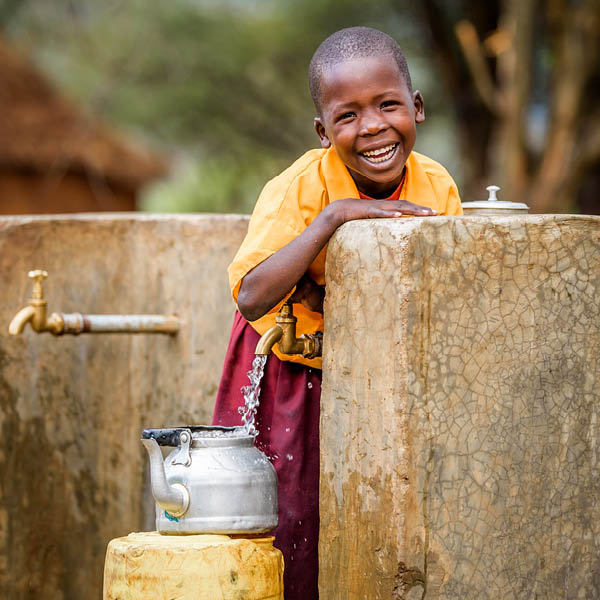 This year we have dedicated the VBS offering to World Vision's Water Project.

For every $50 gifted, we will be able to provide water to a child in need FOR LIFE!
Give online by clicking below to help us provide water to kids in need around the world.
Cash and check offerings can be brought to VBS and will be collected daily during camp.