DAY 3 : WEDNESDAY, JUNE 30
You will seek me and find me when you seek me with all your heart. –Jeremiah 29:13
—- MINISTRY PARTNER ROLL CALL —-
8:30AM | Field

—– 4 & 5 YEAR OLDS —-
9-11:30AM
(no rotation)
—- K to 2ND GRADE —-
Check-In  |  The Center
9-10:05AM
— rotate venues–
10:15-11:30AM
Field  |  Check-Out
—- 3RD to 5TH GRADE —-
Check-In  |  Field
9-10:05AM
— rotate venues–
10:15-11:30AM
The Center  |  Check-Out
PURPOSE FOR THE DAY:  Guide students to realize that Jesus knew he would be betrayed and rejected yet he still chose to follow God's will.
BIBLE VERSES:
Psalm 41:9 ……………………………………………………………..
Even my best friend, the one I trusted completely, the one who shared my food, has turned against me.
Isaiah 53:3 & 7 ……………………………………………………………..
He was despised and rejected – a man of sorrows, acquainted with deepest grief. We turned our backs on him and looked the other way. He was despised, and we did not care. He was oppressed and treated harshly, yet he never said a word. He was led like a lamb to the slaughter. And as a sheep is silent before the shearers, he did not open his mouth.
John 13 ……………………………………………………………..
Before the Passover celebration, Jesus knew that his hour had come to leave this world and return to his Father. He had loved his disciples during his ministry on earth, and now he loved them to the very end. It was time for supper, and the devil had already prompted Judas, son of Simon Iscariot, to betray Jesus. Jesus knew that the Father had given him authority over everything and that he had come from God and would return to God. So he got up from the table, took off his robe, wrapped a towel around his waist, and poured water into a basin. Then he began to wash the disciples' feet, drying them with the towel he had around him.
When Jesus came to Simon Peter, Peter said to him, "Lord, are you going to wash my feet?" Jesus replied, "You don't understand now what I am doing, but someday you will." "No," Peter protested, "you will never ever wash my feet!" Jesus replied, "Unless I wash you, you won't belong to me." Simon Peter exclaimed, "Then wash my hands and head as well, Lord, not just my feet!"
Jesus replied, "A person who has bathed all over does not need to wash, except for the feet, to be entirely clean. And you disciples are clean, but not all of you." For Jesus knew who would betray him. That is what he meant when he said, "Not all of you are clean."
After washing their feet, he put on his robe again and sat down and asked, "Do you not understand what I was doing? You call me 'Teacher' and 'Lord,' and you are right, because that's what I am. And since I, your Lord and Teacher, have washed your feet, you ought to wash each other's feet. I have given you an example to follow. Do as I have done to you. I tell you the truth, slaves are not greater than their master. Nor is the messenger more important than the one who sends the message. Now that you know these things, God will bless you for doing them."
"I am not saying these things to all of you; I know the ones I have chosen. But this fulfills the Scripture that says, "The one who eats my food has turned against me." I tell you this beforehand, so that when it happens you will believe that I am the Messiah. I tell you the truth, anyone who welcomes my messenger is welcoming to me, and anyone who welcomes me is welcoming the Father who sent me."
Now Jesus was deeply troubled, and he exclaimed, "I tell you the truth, one of you will betray me!"
The disciples looked at each other, wondering whom he could mean. The disciple Jesus loved was sitting next to Jesus at the table. Simon Peter motioned to him to ask, "Who's he talking about?" So that disciple leaned over to Jesus and asked, "Lord, who is it?"
Jesus responded, "It is the one to whom I give the bread I dip in the bowl." And when he had dipped it, he gave it to Judas, son of Simon Iscariot. When Judas had eaten the bread, Satan entered into him. Then Jesus told him, "Hurry and do what you're going to do." None of the others at the table knew what Jesus meant. Since Judas was their treasurer, some thought Jesus was telling him to go and pray for the food or to give some money to the poor. So Judas left at once, going out into the night.
As soon as Judas left the room, Jesus said, "The time has come for the Son of Man to enter into his glory, and God will be glorified because of him. And since God receives glory because of the Son, he will give his own glory to the Son, and he will do so at once. Dear children, I will be with you only a little longer. And as I told the Jewish leaders, you will search for me, but you can't come where I am going. So now I am giving you a new commandment: Love each other. Just as I have loved you, you should love each other. Your love for one another will prove to the world that you are my disciples." 
Simon Peter asked, "Lord, where are you going?" And Jesus replied, "You can't go with me now, but you will follow me later." "But why can't I come now, Lord?" he asked. "I'm ready to die for you." Jesus answered, "Die for me? I tell you the truth, Peter – before the rooster crows tomorrow morning, you will deny three times that you even know me."
John 18:1 thru 19:16 …………………………………………………………………..
After saying these things, Jesus crossed the Kidron Valley with his disciples and entered a grove of olive trees. Judas, the betrayer, knew this place, because Jesus had often gone there with his disciples. The leading priests and Pharisees had given Judas a contingent of Roman soldiers and Temple guards to accompany him. Now with blazing torches, lanterns, and weapons, they arrived at the olive gate. 
Jesus fully realized all that was going to happen to him, so he stepped forward to meet them, "Who are you looking for?" he asked. "Jesus the Nazarene," they replied. "I am he," Jesus said. Judas, who betrayed him, was standing with them. As Jesus said, "I am he," they all drew back and fell to the ground! Once more he asked them, "Who are you looking for?" And again they replied, "Jesus the Nazarene."
"I told you that I am he," Jesus said. "And since I am the one you want, let these others go." He did this to fulfill his own statement: "I did not lose a single one of those you have given me."
Then Simon Peter drew a sword and slashed off the right ear of Malchus, the high priest's slave. But Jesus said to Peter, "Put your sword back into it's sheath. Shall I not drink from the cup of suffering the Father has given me?"
So the soldiers, their commanding officer, and the Temple guards arrested Jesus and tied him up. First they took him to Anna, since he was the father-in-law of Caiaphas, the high priest at that time. Caiaphas was the one who had told the other Jewish leaders, "It's better that one man should die for his people."
Simon Peter followed Jesus, as did another of the disciples. That other disciple was acquainted with the high priest, so he was allowed to enter the high priest's courtyard with Jesus. Peter had to stay outside the gate. Then the disciple who knew the high priest spoke to the woman watching at the gate, and she let Peter in. The woman asked Peter, "You're not one of that man's disciples, are you?" "No," he said, "I am not."
Because it was cold, the household servants and the guards had made a charcoal fire. They stood around it, warming themselves, and Peter stood with them, warming himself.  
Inside, the high priest began asking Jesus about his followers and what he had been teaching them. Jesus replied, "Everyone knows what I teach. I have preached regularly in the synagogues and the Temple, where the people gather. I have not spoken in secret. Why are you asking me this question? Ask those who heard me. They know what I said."
Then one of the Temple guards standing nearby slapped Jesus across the face. "Is that the way to answer the high priest?" he demanded. Jesus replied, "If I said anything wrong, you must prove it. But if I'm speaking the truth, why are you beating me?" Then Annas bound Jesus and sent him to Caiaphas, the high priest.
Peter's Second and Third Denials
Meanwhile, as Simon Peter was standing by the fire warming himself, they asked him again, " You're not one of his disciples, are you?" He denied it, saying, "No, I am not."
But one of the household slaves of the high priest, a relative of the man whose ear Peter had cut off, asked, "Didn't I see you out there in the olive grove with Jesus?" Again Peter denied it. And immediately a rooster crowed. 
Jesus' trial before Caiaphas ended in the early hours of the morning. Then he was taken to the headquarters of the Roman governor. His accusers didn't go inside because it would defile them, and they wouldn't be allowed to celebrate the Passover. So Pilate, the governor, went out to them and asked, "What is your charge against this man?"
"We wouldn't have handed him over to you if he weren't a criminal!" they retorted. "Then take him away and judge him by your own law," Pilate told them.
"Only the Romans are permitted to execute someone," the Jewish leaders replied. (This fulfilled Jesus' prediction about the way he would die.)
Then Pilate went back into his headquarters and called for Jesus to be brought to him. "Are you the king of the Jews?" he asked him. Jesus replied, "Is this your own question, or did others tell you about me?"
"Am I a Jew?" Pilate retorted. "Your own people and their leading priests brought you to me for trial. Why? What have you done?" Jesus answered, "My Kingdom is not an earthly kingdom. If it were, my followers would fight to keep me from being handed over to the Jewish leaders. But my kingdom is not of this world."
Pilate said, "So you are a king?" Jesus responded, "You say I am a king. Actually, I was born and came into the world to testify the truth. All who love the truth recognize that what I say is true."
"What is the truth?" Pilate asked. Then he went out again to the people and told them, "He is not guilty of any crime. But you have a custom of asking me to release one prisoner each year at Passover. Would you like me to release this 'King of the Jews'?"
But they shouted back, "No! Not this man. We want Barabbas!" (Barabbas was a revolutionary.)
Then Pilate had Jesus flogged with a lead-tipped whip. The soldiers wove a crown of thorns and put it on his head, and they put a purple robe on him. "Hail! King of the Jews!" they mocked, as they slapped him across the face.
Pilate went outside again and said to the people, "I am going to bring him out to you now, but understand clearly that I find him not guilty." Then Jesus came out wearing the crown of thorns and the purple robe. And Pilate said, "Look, here is the man!"
When they saw him, the leading priests and Temple guards began shouting, "Crucify him! Crucify him!" "Take him yourselves and crucify him," Pilate said. "I find him not guilty." The Jewish leaders replied, "By our law he ought to die because he called himself the Son of God."
When Pilate heard this, he was more frightened than ever. He took Jesus back into the headquarters again and asked him, "Where are you from?" But Jesus gave no answer. "Why don't you talk to me?" Pilate demanded. "Don't you realize that I have the power to release you or crucify you?"
Then Jesus said, "You would have no power over me at all unless it were given to you from above. So the one who handed me over to you has the greater sin."
Then Pilate tried to release him, but the Jewish leaders shouted, "If you release this man, you are no 'friend of Caesar.' Anyone who declares himself a king is a rebel against Caesar."
When they said this, Pilate brought Jesus out to them again. Then Pilate sat down on the judgement seat on the platform that is called the Stone Pavement. It was now about noon on the day of preparation for the Passover. And Pilate said to the people, "Look, here is your king!"
"Away with him," they yelled. "Away with him! Crucify him!" "What? Crucify your king?" Pilate asked. "We have no king but Caesar," the leading priests shouted back. Then Pilate turned Jesus over to them to be crucified. 
Matthew 20:28 …………………………………………………………………..
For even the Son of Man came not to be served but to serve others and to give his life as a ransom for many.
WE ARE TAKING THE
GROUP PHOTO TODAY!
10:10AM | Plaza
K-5 GROUPS will file into their rows for the photo on the Plaza as they rotate venues.

4 & 5 YEAR OLDS will come over to the Plaza from Fellowship Hall at 10:05AM.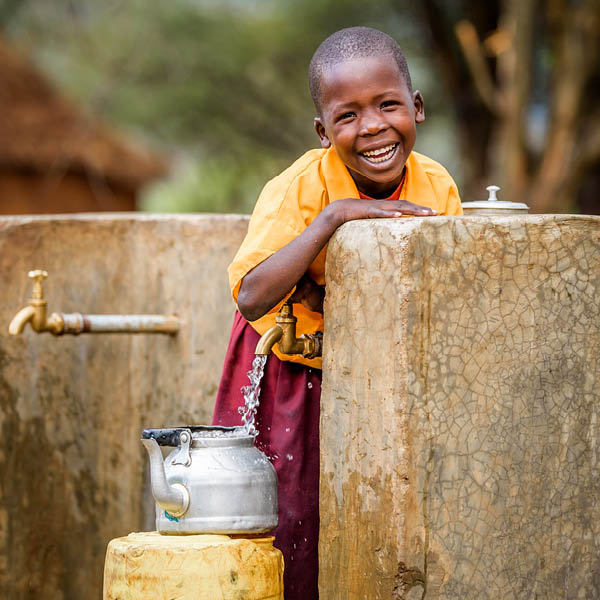 This year we have dedicated the VBS offering to World Vision's Water Project.

For every $50 gifted, we will be able to provide water to a child in need FOR LIFE!
Give online by clicking below to help us provide water to kids in need around the world.
Cash and check offerings can be brought to VBS and will be collected daily during camp.